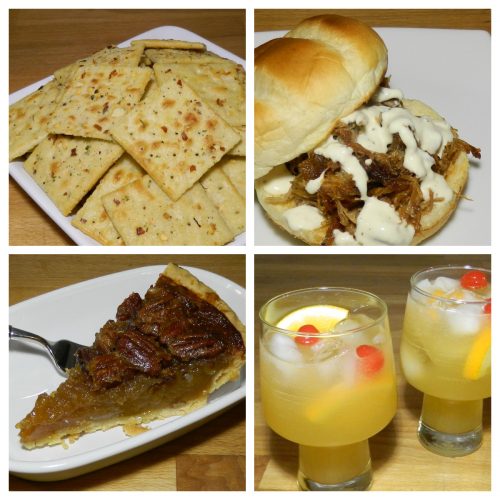 Alabama plays Clemson in the College Football Playoff National Championship Game
(Monday, January 7, 2019 at 8pm Eastern on ESPN)
Appetizer:  Alabama Firecrackers
Main:  Pulled Pork with White Barbecue Sauce
Dessert:  Caramel Pecan Pie
Cocktail:  Yellow Hammer Slammer
MEETtheENEMY
Alabama became known as the Yellowhammer State during the Civil War, when Confederate soldiers from Huntsville marched through Kentucky in their new uniforms.  Veteran soldiers watching the procession noticed bright yellow cloth pinned to the sleeves and tailcoats of the new uniforms and called the soldiers yellowhammers after a familiar local woodpecker.  Years later, Alabama adopted the yellowhammer as its state bird.
In 1907, during a rainy Alabama-Auburn game, a sportswriter coined the term Crimson Tide since 'Bama played well in the mud and held the favored Auburn team to a 6-6 tie.  Alabama's white football sweaters were stained with clay-reddened mud. Of course, Roll Tide is now the official rallying cry of the Crimson Tide.
At a time when the University of Alabama did not have a stellar football team—this would be 1922—and lost badly to Georgia Tech, a local sportswriter asked Alabama alum, Champ Pickens, "You don't have much of a team, what do you have at Alabama?" Pickens answered, "A million dollar band."  These days fans love to see the MDB up close on the Gorgas Library steps about an hour before each home kickoff.  Their "Elephant Stomp" pep rally gets everyone fired up for the coming game.
EATtheENEMY
Southern Living calls Alabama Firecrackers "The South's Most Beloved Appetizer," but we'd never heard of them.  The recipe seemed pretty simple: toss saltines with olive oil and spices in a zip-top bag, marinate for a few hours, then bake.  So easy, and yet they were—hands-down—the favorite food at a recent party.

Having had plenty of red or mustard-based barbecue sauces with ribs and pork sandwiches, it was time to try something new, and Alabama offered just that: Pulled Pork with White Barbecue Sauce.  Purists from northern Alabama say there are only four necessary ingredients: mayonnaise, vinegar, salt and freshly ground pepper. This basic sauce works with pork, chicken, fish—even as a dip for pretzels and chips, or as a salad dressing. Pretty versatile stuff.
Adding caramels to a pecan pie recipe seemed like a no-brainer.  How could it taste anything but rich and gooey? Caramel Pecan Pie, similar to what you can get at Baker's Square restaurants, makes for a decadent dessert.  For tailgating, these would be great as little tartlets made in mini-muffin tins—two bites of something sweet.
DRINKtheENEMY
The Yellow Hammer Slammer really sneaks up on you.  It goes down so, so easily.  Then, 'BAMa!, it hits you. The recipe came from an Alabama alumna, who claims it mimics the original served at Gallettes.  The bar just got a major facelift, but the drink remains the same. Watch out, with vodka, rum and amaretto it's one sneaky drink!

Also seen in enemy territory
Before the first home game, there is an unusual annual event: the Paul W. Bryant Namesake Reunion where anyone named Paul (or Paula), William, Bear or Bryant after the famous coach gathers to trade stories of their name. Make time to visit the Paul W. Bryant Museum just to see the team's history, maybe catch a glimpse of the famous houndstooth hat Bryant wore during his coaching days at 'Bama (1958-82).  There's even a Waterford crystal version of the hat on display!

Between Tuscaloosa and Birmingham, stop in at the Mercedes-Benz Visitor Information Center for a look around their museum and gift shop.  While factory tours are currently suspended (December 2018), check back to see if they might be offering them when you visit the area.
More Alabama cocktails