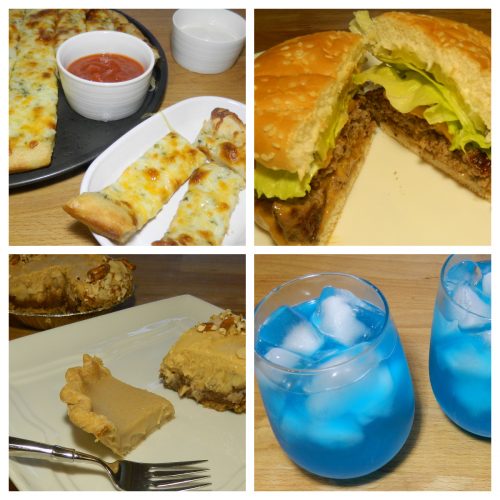 This week's menu for Ohio State University at Purdue
(Saturday, October 20, at 7:30p Eastern on ABC)
Appetizer:  Mad Mush Cheesestix
Main:  Duane Purvis burger
Dessert:  Hoosier Mama pies
Cocktail:  Electric Lemonade
MEETtheENEMY
In 1869, Lafayette businessman John Purdue donated land and $150,000 to begin a higher-education institution focused on science, technology and agriculture. Tippecanoe County chipped in $50,000, and Purdue University was born.

Wondering what a Boilermaker is? This old video shows you what they do these days, but boilermakers originally worked on shipbuilding and steam engines.  In 1891, Purdue beat nearby Wabash College 44-0, and the local paper claimed, "Slaughter of Innocents: Wabash Completely Snowed Under by the Burly Boiler Makers From Purdue." Nearly 50 years passed before the school made the Boilermaker Special, a Victorian-era steam engine, their official mascot. (Two other schools have transportation-themed mascots, any guesses? The Ramblin' Wreck From Georgia Tech and The Sooner Schooner from the University of Oklahoma.)
We can thank former Purdue President James Henry Smart for the founding of the Big Ten Conference during a meeting of several Midwest college presidents in 1895. At that time it was known as the Western Conference and included Illinois, Wisconsin, Minnesota, Michigan, Purdue, Chicago, and Northwestern. After Iowa and Indiana joined in 1899, it became the Big Nine.  Ohio State became part of the conference in 1912, but because Michigan left the conference for failing to adhere to league rules (Jeff is shocked, SHOCKED), it wasn't until 1917 that the conference was known unofficially as the Big Ten. Even now, with the expansion to 14 teams, the Big Ten name remains.
Here's something out of this world: 24 astronauts hail from Purdue and one-third of all space flights have had a Boilermaker on board.  Neil Armstrong would be the most famous, and to pay tribute to the first man to walk on the moon, Purdue named their engineering school in his honor. Mark Geyer, the recently named head of Johnson Space Center, is also a Purdue grad, and surrounded by plenty of Boilermakers who do everything from designing spacesuits to coaching astronauts through spacewalks.
A rivalry between two engineering fraternities in the 1950s became the Rube Goldberg Machine Contest, now an annual event where students create a complex machine to perform a simple task. Watch in awe as this year's winner, Purdue's Society of Professional Engineers, take the top prize for pouring a bowl of cereal.
EATtheENEMY
Mad Mush has a following of late nighters who rave about the Mad Mush Cheesestix.  Just had to try to re-create these at home.  We added two dipping sauces, marinara and ranch, but you could also go with garlic butter, pesto, or nacho sauces. Why not have a cheesestix topping bar?!
Peanut butter on a hamburger … you've got to be kidding! Sounds awful. The owners of Triple XXX Family Restaurant in West Lafayette named the burger for Duane Purvis, a Purdue football player during the golden 1930s. And the Duane Purvis All-American Burger slathered with a generous portion of creamy Jif was, surprisingly, delicious! The sweetness of the peanut butter matched the saltiness of the burger. If you're not willing to risk it, check out other dishes named for Purdue athletes, including the Drew Brees, Bernie Flowers, and Ashley Burkhardt. Finish your meal with a frosty mug of Triple XXX Root Beer, so named because barrels of ingredients (sugar cane) were stamped with Xs to rate them, XXX being the best, of course.
I've wanted to try the delights from Hoosier Mama Pie Company (close by in Evanston, IL) for some time, and the Purdue game gave me the perfect opportunity.  Such a coincidence, I know! One Hoosier sugar cream pie was my goal going into the bright shop, but then I noticed smaller (6 inch) versions of the pies on offer, so two would be even better, right?  The Fat Elvis made the cut. With crushed pretzels around the edges and a filling of peanut butter, banana, and chocolate, how could I go wrong? Definitely best washed down with a steaming cup of coffee or large glass of milk. These are the real deal, and very rich.
DRINKtheENEMY
The Electric Lemonade cocktail is a dangerous concoction.  Hard to resist because of that neon blue, and dangerous because it tastes so much like lemonade you won't even notice the alcohol, until you really can't notice the alcohol.
Also seen in enemy territory
Foods and food inventions created by Purdue grads: soft serve ice cream machine, chicken nuggets, Stove Top stuffing, and Orville Redenbacher popcorn

I-65 in Indiana is flat as can be, but, suddenly, rising from the flat farmland north of Lafayette are hundreds of giant wind turbines.  They are fascinating to watch as they lazily spin around and around.  Not sure that it's possible to go inside one of the turbines, but here is a driving tour (page 1, page 2) of the area that lists some impressive facts about the turbines.
We're always up for an awesome Irish pub, and Nine Irish Brothers fits the bill. With a long list of whiskeys—Irish and "all those others"—live music, and a menu of delicious choices, how can you go wrong? Locations in Lafayette, West Lafayette and Indianapolis. Slainte!
Other cocktails