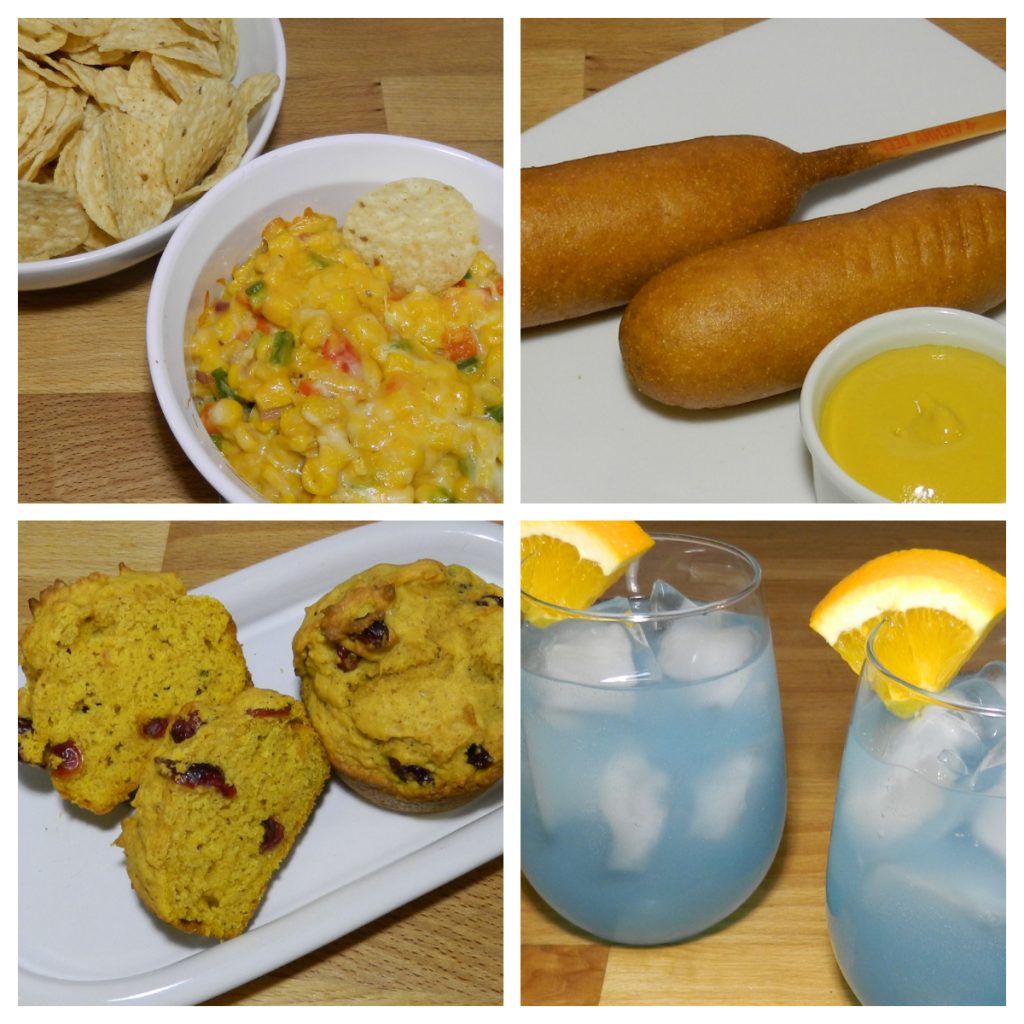 Appetizer: Hot Corn Dip
Main: Cozy Dog (corn dog)
Dessert: Cranberry-Pumpkin Muffins
Cocktail: Blue Guy
MEETtheENEMY
The University of Illinois claims that two Illini seniors originated what became the national tradition of homecoming in the spring of 1910. The following fall, after a win against University of Chicago Maroons—who had won their last seven contests—homecoming was declared a resounding success and has been an annual campus tradition ever since (except during the 1918 flu epidemic).

Memorial Stadium was built in 1923 as a tribute to university students who gave their lives in World War I. Their names are carved on the 200 limestone columns on the east and west sides of the stadium. Outside the stadium is a sculpture of Red Grange, the football phenomenon who scored five touchdowns on October 18, 1924, against the University of Michigan. Nicknamed the Galloping Ghost after his touchdown frenzy, he went on to play for the Chicago Bears and to become a charter member of both the College and Pro Football Halls of Fame.

U.S. President Abraham Lincoln spent his early professional and political years in New Salem, IL, about 100 miles west of the university. As a memorial to the 16th president, Lincoln Hall has a bronze bust of Abraham Lincoln. If his nose looks a bit shiny, its because students rub it for good luck before exams.

Hearing bells around mid-day? Those are the Altgeld Chimes. You might be surprised to learn that they are not pre-recorded, but a live performance each weekday just before 1 pm. You may hear a classical piece or something more contemporary, but know that someone is playing the chimes behind those bells.
EATtheENEMY
Quick … name your state vegetable?  Doesn't just roll off your tongue? In 2015, Illinois made sweet corn the official state vegetable, which is why it features predominantly in the Illinois menu. Hot Corn Dip, served with tortillas or corn chips, makes a delicious appetizer. And here's a university connection: the Morrow Plots in the center of campus are the oldest experimental corn fields in the Western hemisphere. Established in 1876, the Morrow Plots are also considered a National Historic Landmark. Bet you didn't know cornfields could be that famous!
While Cozy Dog Drive In is a 90-minute drive from campus, it serves up another corn-y food: made-to-order Corn Dogs. In the mid-1940s, Ed Waldmire claims to have invented the hot-dog-on-a-stick idea when he developed a batter that would stick when the hot dog was submerged in oil rather than baked. He took the idea to the state fair which helped the humble corn dog gain a following. The Cozy Dog Drive In is full of Route 66 memorabilia and worth stopping for a cozy dog (or two) and a look at the kitschy stuff.

Cranberry-Pumpkin Muffins are a few bites of fall. Did you know that 95% of canned pumpkin in the U.S. are grown in Illinois? Morton, Illinois, calls itself the "Pumpkin Capital of the World." When you've got that much pumpkin (and a husband who hates pumpkin pie but makes an outstanding pumpkin cheesecake), you come up with other recipes.
DRINKtheENEMY
The Blue Guy cocktail doesn't sport true Illini navy, but it is blue and based on a popular drink at Kam's bar in Champaign.  Our version is a simple combination of vodka and a Monster sugar-free blue energy drink. You'll be surprised at how tasty it is; we were (quite pleasantly!).

Also seen in enemy territory
Aikman Wildlife Adventure is a drive- and walk-through exotic-animal park located about 40 minutes south of Champaign-Urbana. While you're in the area, stop in Arthur, the heart of Illinois Amish country, for custom oak furniture, delicious small-batch baked treats, antiques and collectibles, and just a quieter pace.

Lots of University of Illinois grads tell me they have memories of going to Papa Del's Pizza Factory. This Champaign pizza place will celebrate its 50th anniversary in 2020, having opened on homecoming night, October 24, 1970.

Other Illinois cocktails