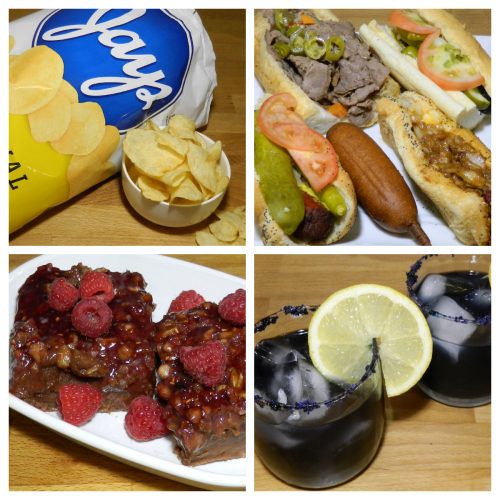 This week's menu for Northwestern at Ohio State (Big Ten Championship Game)
(December 1, 2018 at 8:00pm Eastern on Fox)
Side:  Jays potato chips
Main:  Sandwiches from Mustard's Last Stand
Dessert:  Palmer House Brownies
Cocktail:  Purple People Eater
MEETtheENEMY
In 1850, several Chicago businessmen met to plan a university to serve the Northwest Territory, an area spanning from Ohio to parts of Minnesota.  By 1853, they had purchased land 12 miles north of Chicago in what would become Evanston, a town  named for one of Northwestern University's founders, John Evans.  Needing to expand the campus nearly a century later, Northwestern looked east, into Lake Michigan.  Nearly half of Northwestern's Evanston campus is built on land recovered from the lake. The expansion, carried out from 1962-64, began with a limestone seawall built in Lake Michigan that was filled with landfill material, resulting in 74 buildable acres.  This reclaimed land was far cheaper than property in Evanston. Today, many campus buildings have gorgeous views of Lake Michigan.

The Rock, a quartzite boulder, was a gift from class of '02—1902, that is.  In the 1940s, fraternities and sororities painted The Rock as a prank. But these days people camp out next to The Rock for 24 hours to claim the right to paint it with a message promoting their group, cause or belief.   The Rock, located between University Hall and Harris Hall, even has its own live-stream webcam.
Northwestern has produced a litany of well-known actors and actresses:  Ann-Margaret, Warren Beatty, Tony Randall, David Schwimmer, Stephen Colbert, Julia Louis-Dreyfus, to name just a few.  Many appeared in NU performing arts shows, including The Waa-Mu Show (the first co-ed musical review, named for the Women's Athletic Association (WAA) and the Men's Union (MU)) and The Dolphin Show, named after a men's swim group who wanted to raise money to travel to competitions.
EATtheENEMY
Leonard Japp first sold pretzels from his truck in the late 1920s.  When his wife started making potato chips, Japp sold those as well, under the name "Mrs. Japp's Potato Chips."  After WWII, the family name became understandably unpopular, so the chips and the company were renamed to Jays. The company filed for bankruptcy in 2007, but was acquired by Snyder's-Lance, keeping Chicagoans and Midwesterners Jays Potato Chips-happy.

There's a tiny restaurant—once a nurse's barracks—across the parking lot from Northwestern's football stadium, with just a few bar stools inside and concrete tables outside.  Locals and visitors alike are drawn to a pre-game Vienna beef dog with Chicago toppings at Mustard's Last Stand.  We chose a variety of sandwiches:  Italian beef, Polish sausage, Italian sausage, corn dog, bratwurst.  Small place, big flavor.
Palmer House Brownies were first made at the direction of Bertha Palmer— socialite, wife of Palmer House owner Potter Palmer, and philanthropist who also headed the Ladies' Guild of the 1893 World's Columbian Exposition.  She asked her Palmer House pastry chefs to create a dessert that would be easy to add to boxed lunches at the exposition, and the first brownies were born … er, baked. The Palmer House, now a Hilton Hotel, serves the brownies today, still made from the same 1893 recipe.  These brownies are more fudgey than cakey. We made two substitutions: raspberry preserves for the apricot, and pecans for walnuts.
DRINKtheENEMY
Celebrate Northwestern's love of purple with a Purple People Eater cocktail.  Blue curacao, grenadine and cranberry juice give it the color you want.  Vodka gives it the punch you want.

Also seen in enemy territory
Before going on to work tirelessly for the Woman's Christian Temperance Union (WCTU) and the suffrage movement, Frances Elizabeth Willard served a brief stint as the first Dean of Women at Northwestern's Woman's College in the 1870s.   Her home became the headquarters of the WCTU, keeping Evanston a dry city until 1972. Another 40 years passed before the first distillery opened its doors in Evanston in 2011.  FEW Spirits takes its name from Willard's initials, and uses replica woodcut prints of the 1893 World's Columbian Exposition wonders for its labels.  There's a lot of history in these bottles of rye, gin, and bourbon whiskey.
Northwestern is so close to home for us that we can hear the marching band practice and cheers from a night game.  But, if you're in the area, our favorite place to spend time is the Chicago Botanic Garden, just 10 miles north of the Northwestern campus.  Every year we wait and watch for the first signs of spring to appear in the bulb garden, stroll through the Japanese garden, watch as the fall leaves turn vibrant colors, and always go when Chicago gets one of its foot-deep snows.
Other Northwestern cocktails