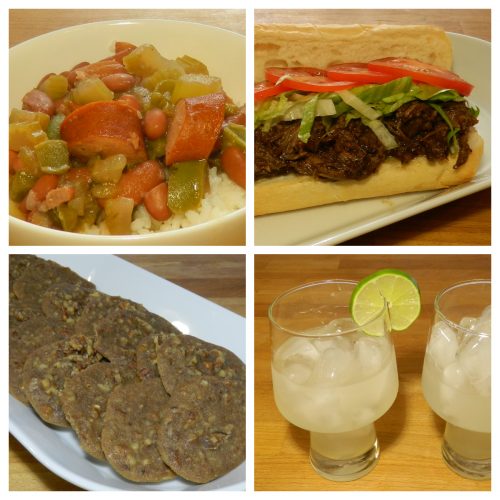 This week's menu for Tulane at Ohio State University
(Saturday, September 22, 2018 at 3:30pm Eastern on BTN):
Side:  Red Beans and Rice
Main:  Slow-Cooker Beef Po'boy
Dessert:  Classic Pecan Pralines
Cocktail: Hullabaloo Daiquiri
MEETtheENEMY
Tulane University emerged from the hardships caused by diseases brought into the port city of New Orleans from various countries.  In 1834, seven doctors founded the Medical College of Louisiana in New Orleans, responding to outbreaks of cholera, smallpox and yellow fever.  During the Civil War years (and now renamed the University of Louisiana), the school closed, reopening in 1865 to financial difficulties. Benefactor Paul Tulane donated land, and eventually the school was renamed Tulane University of Louisiana.
In 2005, the university was forced to close for a second time when Hurricane Katrina caused $650 million in damage to the campus.  Many students attended other schools for the first semester, but 94% of them returned to the campus in January, 2006, with a renewed desire to revive the city.  That year, Tulane started a new undergraduate public service requirement, the first among the Carnegie ranked "high research activity" schools to do so.
I remember hearing for months about Katrina and its effect on New Orleans, but recently reading many of the online articles was incredibly moving. Revitalizing a campus and bringing an entire city back to life after such a catastrophe deserves a resounding cheer even from enemy camp!
EATtheENEMY
Red Beans and Rice is traditionally made on Mondays with a leftover pork bone from Sunday's ham dinner. This Louisiana Creole dish could cook slowly on the stove all day while the washing was done and set out to dry on the clothesline.

While there are several origin stories for the po'boy sandwich, most believe two brothers–restaurant owners and former streetcar drivers– developed the classic New Orleans sandwich.
"When streetcar drivers went on strike in 1929, the brothers took up their cause and created an inexpensive sandwich of gravy and spare bits of roast beef on French bread they would serve the unemployed workers out of the rear of their restaurant. When a worker came to get one, the cry would go up in the kitchen that "here comes another poor boy!," and the name was transferred to the sandwich, eventually becoming "po-boy" in common usage," according to FrenchQuarter.com.
Po'boys can be made with meat or fried fish (most commonly shrimp or oysters). We chose a beef version for our Slow-Cooker Beef Po'boy–deliciously seasoned and absolutely melt-in-your-mouth tasty. Ordering is easy: they're either "dressed" (with lettuce, tomato, onion, mayo) or "naked." Try one (or more) of 60 variations, whatever tempts your palate, at the Oak Street Po-Boy Festival each fall.
Pralines originated in 17th century France.  The original version used almonds, but French settlers in New Orleans substituted local ingredients–brown sugar and pecans. Our Classic Pecan Pralines don't require many ingredients, but a candy thermometer is a must to get them just right.
DRINKtheENEMY
The Tulane student newspaper is called the Hullabaloo, so choosing the Hullabaloo Daiquiri as this week's cocktail was a no-brainer  This easy sweet-tart blend of rum, lime juice, and simple syrup will have you longing for a trip to the Big Easy.


Also spied in enemy territory
Thanks to a gift from Josephine Newcomb, Tulane has the largest collection of (Louis) Tiffany windows in the state. If you come on the right day (second Thursday of the month at noon), you can take the

Tiffany Tour.

There's so much to explore in NOLA:

 

French Quarter architecture,

elegant mansions in the Garden District,

New Orleans City Park's

many attractions, behind-the-scenes float-building tours at

Mardi Gras World

, concerts at Preservation Hall, followed by a stagger down Bourbon Street.

5 famous cocktails

invented in New Orleans

Hullabaloo

cocktail