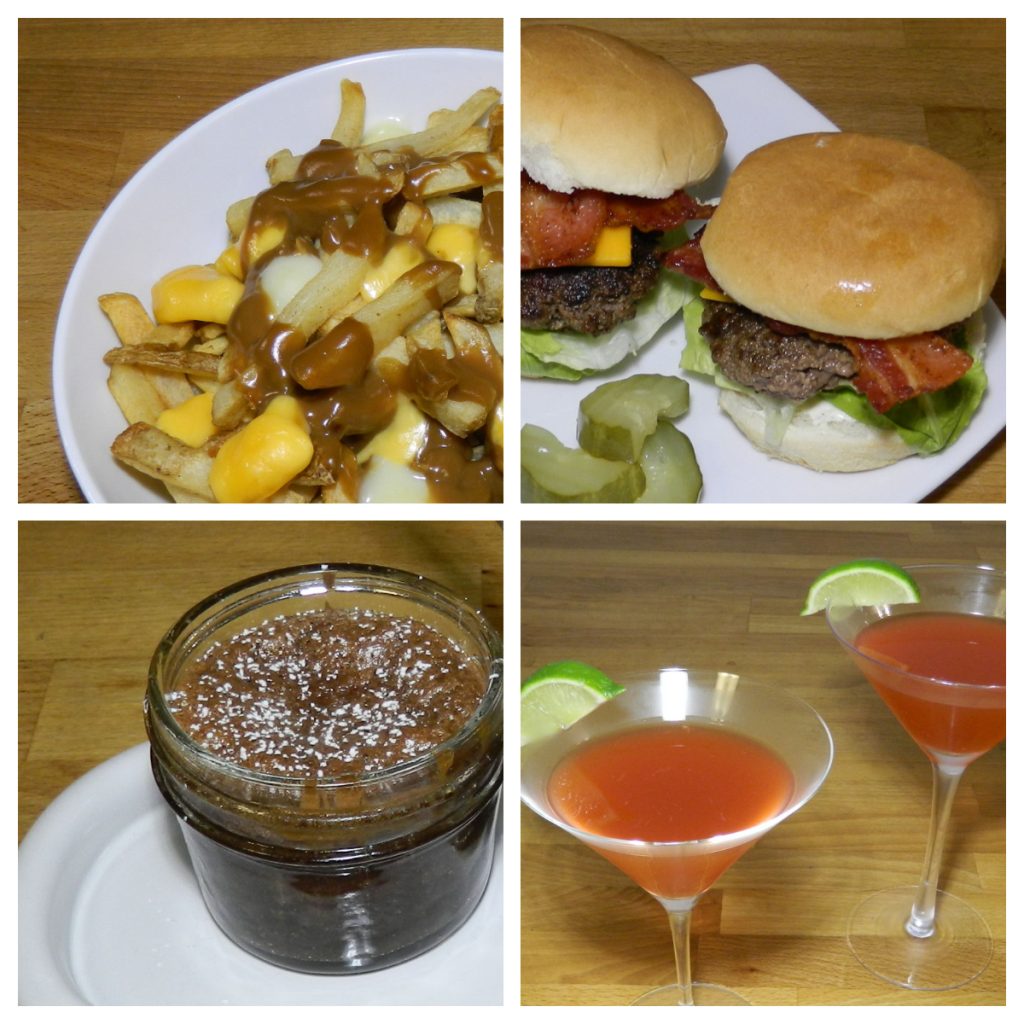 Appetizer: Poutine
Main: Zip's Burger
Dessert: Little Lava Cakes
Cocktail: Bulldog Smash

MEETtheENEMY
Gonzaga University in Spokane, WA, is a Catholic school named for Aloysious Gonzaga, a young Jesuit saint. Founded in 1887 on the banks of the Spokane River, the first class had an enrollment of just seven students and a faculty of 14.

Entertainer Bing Crosby, a Spokane native, attended Gonzaga University in the 1920s before dropping out to pursue his music career. The university awarded him an honorary degree in 1937 and owns the Crosby family home, which is open to the public.

The World War II years brought many changes to campus. In 1942 Gonzaga put its football program on hold like many colleges and never resumed the money-draining sport. During the war, the university was converted to a training center for the U.S. Navy. And, by the late 1940s, both the GI Bill and the admission of women brought an influx of new students to the campus.

Over the past 20 years, Gonzaga has become synonymous with basketball. While many refer to the team as the Zags instead of the Bulldogs, Spike the Bulldog is the official mascot. Games are played at the McCarthey Athletic Center, aka The Kennel. Of course, the student section goes by The Kennel Club with coveted front row seats. Students work hard to get those seats, participating in Tent City, a race to get the best tickets for home basketball games. A Kennel Club Board tweet sends frenzied students running to one location to be the first to get a tent securing a spot in line for tickets. Some other schools have stopped tenting, but Gonzaga students continue this spirited tradition.
EATtheENEMY
Originating in Canada, Poutine slips across the border into the Pacific Northwest as an unusual appetizer. Consisting of just three ingredients—fries, cheese curds and gravy—it's a super-easy dish to make. Since Washington State produces 20% of all potatoes grown in the U.S., you can bet the potatoes in Spokane poutine are local. Make sure to use some decent, thicker cut fries and, in a pinch, shredded cheese will do as a substitute for the cheese curds.

A classic burger place is essential near a campus, and Zip's Drive-In is the place where Zags go. Known only to inland northwesterners, Zip's predates burger rival McDonald's by two years. Well established, but not much known out of the area, Zip's is famous for its burgers (including the Zip's Burger) and cream shakes. Just can't decide what to order? Maybe this review (by a team of journalists who tried them all in one sitting) of available Zip's burgers will help.

Inspired by mouth-watering pictures of molten chocolate cake from Seattle's Hot Cakes, I wanted to include these Little Lava Cakes as individual desserts. I'm also impressed that Hot Cakes uses only three ingredients—chocolate, sugar, and eggs—for their lava cakes. This recipe has a few more ingredients, but it is the perfect take-along treat for a gameday party. And, hey, it's chocolate.

DRINKtheENEMY
We're not gin fans in general, but the Bulldog Smash, with the addition of cherry liqueur and lime juice, is a refreshing treat that's savory, sweet, and sour.
Also seen in enemy territory
It's worth staying in downtown Spokane if you're a wine aficionado, as there are 15 wineries within walking distance in an area known as the Cork District. However, if beer is your drink of choice, try some of the 46 breweries on the Inland Northwest Ale Trail. There is no way you'll go thirsty in Spokane!
Centennial State Park Trail has 40 miles winding through urban and rural areas, with more than a dozen trailheads in case you're not up for the entire trek. Start at the Nine Mile Recreation Area or at the Idaho end, or jump on at Mission Park in Spokane and head either direction.
Don't miss Spokane Falls and Riverfront Park with a giant Radio Flyer wagon and building blocks. Current construction updates to this area will make it even more family friendly.
More Gonzaga cocktails