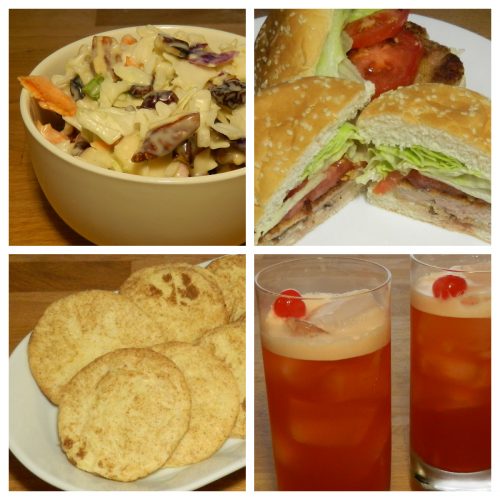 This week's menu for Indiana University at Ohio State University
(Saturday, October 6, 2018 at 4:00pm Eastern on FOX):
Side:  Apple Cranberry Coleslaw
Main:  Pork Tenderloin Sandwich
Dessert:  Snickerdoodles
Cocktail:  Start Your Engines
MEETtheENEMY
Southern Indiana in the fall just begs for time outside, and Indiana University offers some of the most picturesque and IG-worthy shots. Start at Sample Gates, leading the way into Old Crescent, the oldest part of the Bloomington campus. These imposing gates are made from Indiana limestone and surrounded by gorgeous flower beds often blooming in crimson and cream. Enjoy the preserved woodland in the center of campus with a walk through Dunn's Woods.

Off campus, get your StairMaster workout at Hickory Ridge Lookout Tower—123 steps to the top of the 110-foot tower. Every direction gives incredible views of the surrounding area, especially during the fall foliage season.
Indianapolis may claim the Indy 500, but Bloomington has the Little 500, the largest collegiate bicycle race in the U.S., drawing 25,000 spectators cheering on the four-person relay teams. But you'll have to wait for spring (third weekend in April) for this annual IU student foundation fundraiser which awards $80,000 in scholarships. The Cutters, named after the locals who cut limestone for IU's iconic buildings, have won the Little 500 most often. Remember Breaking Away, the 1979 movie about four Bloomington locals who enter the Little 500? (Thanks to my friend, Kris, who told me about the Little 500 race.)
EATtheENEMY
In search of something crunchy to go with the fried pork tenderloin sandwich, I found a crispy slaw that did the trick—Apple Cranberry Coleslaw.  Using a tart Granny Smith apple and plumped up cranberries for a sour-sweet mix, and adding crunchy cabbage to green onions and toasted pecans (our preference over walnuts), this is the perfect fall mix of flavors.
In 1904 Nick Freienstein, son of wiener-schnitzel-making German immigrants, created the Pork Tenderloin Sandwich, substituting thin, deep-fried pork for veal, and topping with pickles and onions. The sandwich became so popular, Nick opened Nick's Kitchen, in Huntington, IN, about 40 miles south of Fort Wayne. Who has the best pork tenderloin sandwich?  As you might guess, the question is hotly debated throughout the Hoosier state. I can't answer that, but you could follow The Tenderloin Connoisseur to find out what Rick Garrett—the self-proclaimed connoisseur—thinks as he travels around the Hoosier state in search of the best.
I think of Snickerdoodles as THE classic Amish cookie, maybe because I always see them in Amish markets in northern Indiana and central Ohio.  Could also be their German origins, or that they require so few ingredients. A sugar cookie rolled in cinnamon sugar and baked until the top cracks, their crispy-on-the-outside-and-chewy-on-the-inside combo is perfect .
DRINKtheENEMY
Here's our real Indy 500 connection—the Start Your Engines cocktail. This blend of pineapple and orange flavors gets added depth from the black tea-infused vodka (so easy to make at home).
Also spied in enemy territory
No doubt you've heard of Route 66, but have you heard of ArtsRoad 46? Spanning three counties in south central Indiana, ArtsRoad46 starts with Bloomington's many art galleries, moves on to Nashville (not the Tennessee one) where you can meet local artists and watch them work, and finishes in Columbus (not the Ohio one), referred to as "a small-town architectural mecca." Here you'll find more than a dozen artists and architects lining a one-mile stretch in town known as "The Avenue of the Architects".

If you're headed to campus to check out the IU Eskanzai Museum of Art, you've been warned here that it is closed for a $30 million makeover until Fall 2019.
More Indiana-themed cocktails