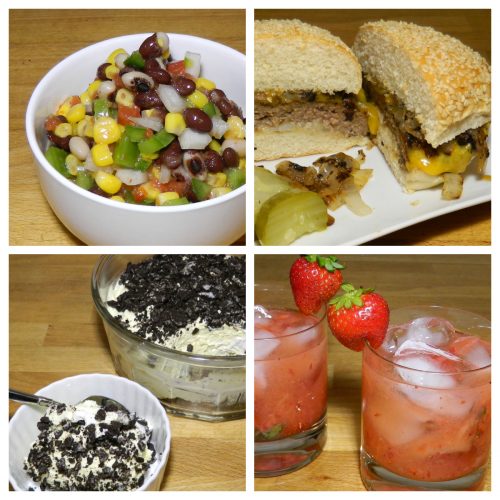 With the Buckeye's regular football season over (congrats on that Big Ten Championship, guys!), we'll be working our way through the 4 playoff teams.  First up, Oklahoma (where the wind comes sweeping down the plain … )!
Oklahoma plays Alabama in the Orange Bowl
(December 29, 2018 at 8:00 Eastern on ESPN)
Side:  Cowboy Caviar
Main:  Oklahoma Fried Onion Burgers
Dessert:  Oklahoma Dirt Cake
Drink:  Farmer's Daughter
MEETtheENEMY
Imagine waiting with 50,000 other people for a shot signalling the beginning of a race.  Now imagine it's 1899, and you're racing on horseback or in a wagon to claim the land you want to farm.  You've just experienced the Land Run in Oklahoma Territory. At the time, pioneers were nicknamed Boomers, and those who jumped the gun were known as Sooners.   For the Oklahoma City centennial of that famous Land Run, sculptor Paul Moore was commissioned to recreate that experience.  See his larger-than-life bronze sculptures at the Oklahoma Land Run Monument in the Bricktown neighborhood.

The University of Oklahoma, about 20 miles south of Oklahoma City in Norman, adopted Sooners as their nickname, after using both Rough Riders and Boomers previously.
What to do when you have no car, but need school supplies or laundry facilities?  Head to Campus Corner where students in the early 1900s found everything they needed.  But don't forget entertainment! At the time, many of the buildings had ballrooms on their second stories.  Today, Campus Corner is still a hub for shopping, services and restaurants.
Every time the OU football team scores in their home stadium, you'll see the Sooner Schooner, a replica Conestoga wagon, barrel across the field.  The Ruf/Neks, OU's all-male spirit squad, drive the wagon pulled by white horses named Boomer and Sooner.  In the grand lobby at the Barry Switzer Center, Sooner football history comes alive through pictures, trophies and memorabilia.
Since 2012, the Fred Jones Jr. Museum of Art has offered free admission to all visitors, thanks to an annual $60,000 gift from the OU Athletic Department. An interesting mix of athletics and art!  Many donations make this a special place, but don't miss the 30+ French Impressionist pieces or the collection of more than 4,000 Native American works of art.
EATtheENEMY
Black-eyed peas, corn, and black beans are the base for Cowboy Caviar, a frontier version of a bean salad.  Serve this in mini pie tins or small mason jars for a western look.
Oklahoma Fried Onion Burgers are a Depression-era creation, when onions were cheap and a great filler.  Throw a sliced half-onion on the griddle, smash a meat patty into the onions, steam the bun on top.  A couple of pickles, a squirt of mustard, and you're done.
Ever heard of dirt cake?  Crushed Oreo cookies look surprisingly like a rich, earthy garden, so people often add flowers or gummy worms to the top.  Some people even make their dirt cakes in (unused) flower pots. We left our Oklahoma Dirt Cake un-wormed and un-potted.  It was still fluffy with bits of crunchy cookie, tasting nothing like dirt.
DRINKtheENEMY
Rumor has it that the Farmer's Daughter cocktail started as a nod to Laurey Williams, Curly McClain's love interest in Rodgers' and Hammerstein's  Oklahoma!  The sweet-and-savory combination of strawberry and basil hits the spot.
Also seen in enemy territory
Any other weather geeks out there?  Visit the National Weather Center on OU's campus.  The NWC is the epicenter of severe weather, the place where weather alerts are announced.  
Oklahoma offers plenty of places to explore, whether it's a day trip or a vacation.  Using the Adventure Road website, you can plan the places you stop and the kind of trip you want: artsy, historic, family, romantic, (or choose from two dozen more themes).  With places already mapped out and details provided, all you need to do is show up!
Other Oklahoma cocktails