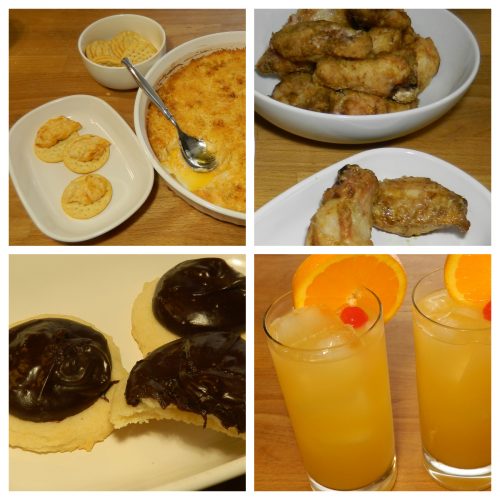 This week's menu for Ohio State at University of Maryland
(November 17, 2018 at 12:00pm Eastern on ABC)

Appetizer:  Hot Crab Dip
Main:  Chicken Wings with Old Bay Seasoning
Dessert:  Baltimore Berger Cookies
Cocktail:  Black-Eyed Susan
MEETtheENEMY
The University of Maryland's founding dates back to 1856.  For a brief time after the Civil War, the school declared bankruptcy and became a boys prep school.  By 1867, the University, now a state institution, had returned to its original purpose as a higher education facility.  Here's an interesting UMD legend: The Point of Failure on south campus is a circle with lines drawn from nearly all University buildings that were lost in a 1912 Thanksgiving Day fire. (Fortunately, all students and faculty evacuated safely.)  Legend says that walking on the center of the circle means you won't graduate in four years.
In 1932, head football coach Dr. H.C. Byrd suggested the diamondback terrapin, a species of turtle native to the Chesapeake Bay area, for the school's mascot. UMD's mascot is named Testudo—Latin for turtle, but also the name of a Roman military tactic where soldiers in close formation raised their shields either in front of, above or to the side to deflect arrows.  Think about it, that would look like a turtle pulling into its shell.
For many years the school's colors alternated between two combinations:  red and white or black and gold, depending on the head coach's whim. In recent years, they have settled on a scheme using all four colors, which also happen to be the colors of Maryland's state flag. In 2005, Maryland was one of the first schools to adopt a blackout theme, known as Byrd Blackout to signal "unity and sportsmanship."
At the Stamp student union, head straight to the TerpZone. With billiard tables, weekend cosmic bowling, and open mic nights, this is the place to be with friends.  Right outside the Stamp is a statue of one famous alum, Jim Henson, and his Muppet creation, Kermit the Frog.
Kevin Plank, founder & CEO of Under Armour, is also a UMD alum.  You may have heard Plank's rags-to-riches story of creating the first Under Armour shirt because of his own experience sweating on the Maryland football field.  After several prototypes, he found a synthetic material that would keep athletes dry, and starting selling them to his old teammates, since the pros didn't seem interested.  His net worth is now over $2 billion; not bad for a guy hawking T-shirts!
While most universities have a chapel on campus, the University of Maryland has a unique outdoor space, designed by students, for quiet and meditation. The Garden of Reflection and Remembrance has a thyme-ringed labyrinth to walk, benches (with journals tucked below to capture those meditative thoughts), a bubbling water feature, and plenty of space to think and be in nature.   What a great addition to a campus!
EATtheENEMY
Maryland is famous for fresh crab dishes, but here in the Midwest, we used canned crab in our Hot Crab Dip.  It's a rich combination best on a sturdy cracker or toasted French bread slices.

Old Bay Seasoning, a mix of 18 spices, is the spice of the coast. You can find it in ice cream, potato chips, ale, even in lieu of salt around the rim of a bloody Mary!  While traditionally used on seafood, it also works well with our Chicken Wings with Old Bay Seasoning. It's the perfect amount of kick for gameday wings.
Baltimore Berger Cookies are a cake-like vanilla cookie with a whopping dollop of fudge icing on top.  Oh, so tasty. The DeBaufre bakery in Baltimore makes these just like German-immigrant Henry Berger did after starting his bakery in East Baltimore back in 1835.
DRINKtheENEMY
You've heard of the Preakness Stakes, the second stage of the Triple Crown of Thoroughbred Racing, right?  The Black-Eyed Susan is the official cocktail of the Preakness, and each year a different variation is revealed.  We haven't tried all of them just yet but the 2017 version—a delightful blend of bourbon, vodka, peach schnapps, and orange juice—is delicious.

Also found in enemy territory
To see where the post office started airmail service, where vertical flight was first tested, where the first female passenger and first female military pilot flew … well, you get the idea. The College Park Airport and Aviation Museum can claim lots of firsts because it is the site where Wilbur Wright first taught military pilots how to fly planes.
The options for eating near campus seem utterly endless on Route 1/Baltimore Ave. There's no way to go hungry, and the Linguistics Department has published a pretty comprehensive list of places to go.  Apparently all that tongue-twisting involved in studying and teaching languages works up quite an appetite.
Other Maryland cocktails